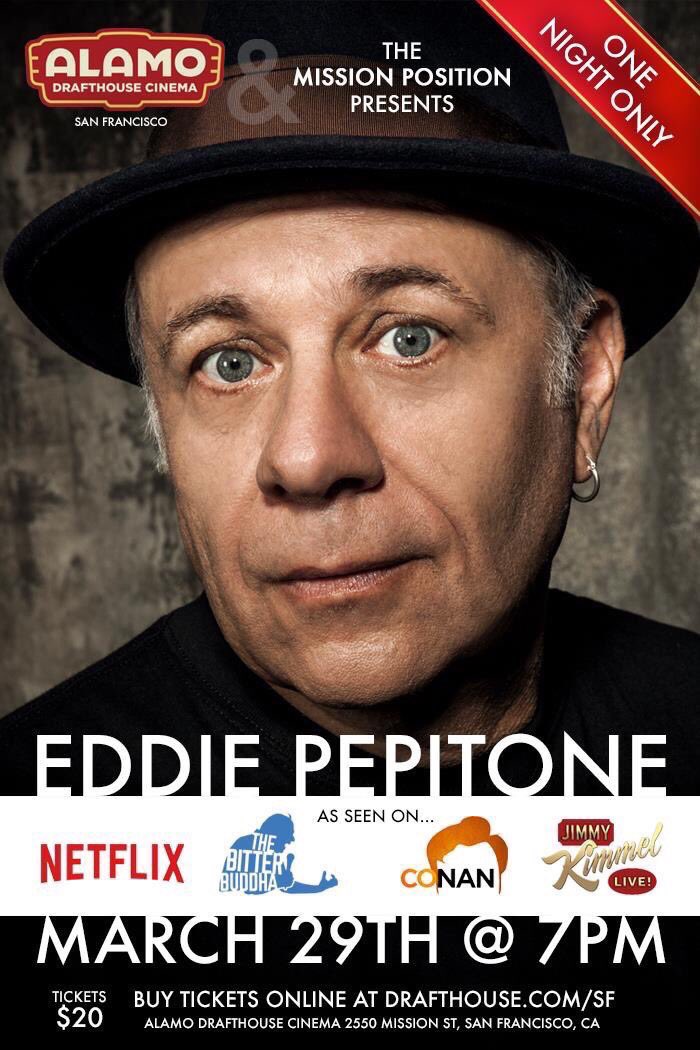 Good news: Eddie Pepitone will be at the Alamo Drafthouse in San Francisco this Wednesday (5/29). Bad News: it's impossible to properly impulse you to go if you're not in the know.

It's not for lack of desire, or ability, or resources. I want you to experience the clashing cacophony and cool. I've seen Eddie at Riot LA and the Hollywood Improv, both vivid, cherished memories of laughing harder than imaginable. It's not for lack of Eddie's credentials: CONAN, Kimmel, Comedy Central. It's not for lack of Pepitone's excellence in his signature pursuits: Puddin', The Bitter Buddha, Pep Talks. I can even show you the one standup clip that I watch over and over and still laugh like the first time. A without fail, playful, subversive respite that salves any true despair.
But it's not enough. Fans will leap at the opportunity to watch the powerhouse hold court for an hour. Comedy nerds weigh the show against the deluge of humor-spoiled San Francisco. The new San Francisco will probably entertain a cool venue, a reasonable priced but not too inexpensive night out mid-Mission District, mid-week. Aspiring and inspiring comedians will congregate for the masterclass—he's often your favorite comedian's favorite comedian once or twice removed. But you?
There's nothing like Eddie Pepitone. He's the perfect blend. There's something classic in his bombast projections, how old movies sound more official and how old comedy feels more utilitarian. Some bite too. But not in that "cooler than you", ball-busting antagonism. It's a sincere iconoclasm. There's postmodern anxiety. There's showbiz existentialism. There's a hysterical, hushed saccharine. There's too much magic to be muddled. Ah!

We talked to Irene Tu about the upcoming show, presented by Mission Position, which she co-produces with Adrian McNair. Irene is a legit bad ass. Rides a skateboard and everything. She's a umpteenth-time Tourettes Without Regrets Dirty Haiku Champion, co-produces the hit Oakland show Man Haters, was featured on Viceland's FLOPHOUSE and SeeSo's The Guest List. She's also, most importantly, really funny.
---
It's been a while but the show started as a Radio Valencia program, transitioned to a live monthly-then-weekly show with Kate Willett, Matt Lieb, Jessica Sele and Trevor Hill. Then my Google search gets fuzzy. How long has Mission Position been happening?
It's our four year anniversary of the show and our one year anniversary of moving the show to Alamo Drafthouse.
And when did you get involved?
Adrian and I started producing the show on the later end of Lost Weekend Video before it closed down. We wanted to keep the show alive and the indie spirit as we searched for a new venue and finally found the Alamo Drafthouse.
Losing Lost Weekend hit a lot of people hard. It was the perfect size for smaller shows, great staff, great atmosphere, great location. What's been the hardest part about the transition?
I think the hardest part is keeping that indie and intimate feel of the show that we loved so much. We're trying to sell out the show every month – it's way harder to sell 90+ seats than 30!
Has there been a defining night or moment since moving to the Alamo?
All of the shows have been great but my favorite show was probably our January show this year. It was the day before Sketchfest started and we were afraid that no one would come. It ended up being almost sold out and everyone LOVED the show. It reminded me why we do comedy in the first place.
Pepitone is a huge get. How did you pull that off?
Our friends at Rooftop Comedy and Audible worked with us to bring Eddie Pepitone up for our one year anniversary show.
What does it mean to you for him to do the show?
Adrian McNair, funny fave: Eddie was one of the first comics that made me WANT to do comedy. Producing a show and having Eddie Pepitone signifies how far I've been able to come as a producer and comedian.
Irene: Eddie is one of my favorite comedians to watch. I don't laugh as much watching other comics anymore since I see so much stand-up. But Eddie always makes me laugh out loud until my gut hurts. You HAVE to experience him live.
---
March 29, 2017. The Mission Position Presents Eddie Pepitone @ The Alamo Drafthouse. 2550 Mission St, San Francisco, CA 94110. $20. Doors @ 7pm. Hosted by Adrian McNair and Irene Tu.