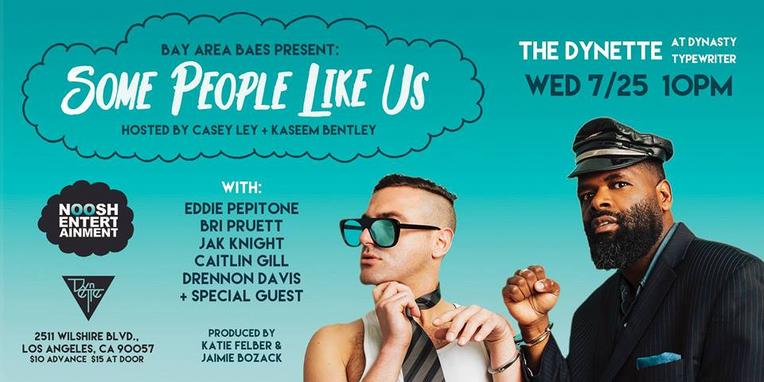 Since moving down the I-5, I'm always sweating to find cool comedy on these hot Los Angeles nights. Kaseem Bentley and Casey Ley are some of the coolest comedians around. Individually, Kaseem is a primo insult comedian that will roast you with big smile on his face and Casey is an ambitious, smart, witty and playfully brazen storyteller. The two stand-ups tell meaningful jokes like they mean them. What they say and who they are lingers in the back of your mind, on the tip of your tongue. Their performances leave an imprint. You will never forget Kaseem and Casey.
Together, as Some People Like Us, the Bay Area-built standouts have tremendous chemistry and aesthetic fidelity. They're going to be big, loud, and provocative, always reaching for something true. Will they find it, that truth? Maybe. Are you going to have a good time? Of course. Will they be joined by exciting guest performers, like the indomitable Eddie Pepitone and the vibrant Bri Pruett? Yes! Should you go? Absolutely.
Check them out tonight, Wednesday July 25, 10pm at Dynasty Typewriter in Westlake. It's going to be a hot one.