Did you know that Marilyn Monroe stuttered? Did you also know that stuttering is thought to originate in the left, speech-producing side of your brain, but, if a stutterer intonate a sexy, breathy voice like Marilyn, or sing, they won't stutter, because that activates the right side of your brain? Stutter Interrupted (The Comedian Who Almost Didn't Happen) by Nina G is ripe with information like that. A veritable who's who and what's what about speech therapy, conferences, and the most common, most infuriating ways people condescend to a another person with a disability. It's also a very funny collection of stories about the trials of loving Emo Phillips, academia, an Italian-American upbringing and relationships. But, at its core, Stutterer Interrupted is a fascinating and fresh account about how everything is tied to fluency.
One of the glaring things about to learn about stuttering, as a fluent speaker, is how much you don't know about people who stutter. Like, next to nothing. It's wild. Stutterers are largely underrepresented in the media. Which is unfortunate because, as 1% of the world's population, the stuttering community is distinct and vibrant. Everything in their lives are filtered through a paradigm in a way you can only imagine. Anything a fluent person doesn't know they'll probably assume. Nina G encourages, demands, jokingly nudges you to get out of your comfort zone and confront the systems and feelings that cultivate unexamined bias and ignorance.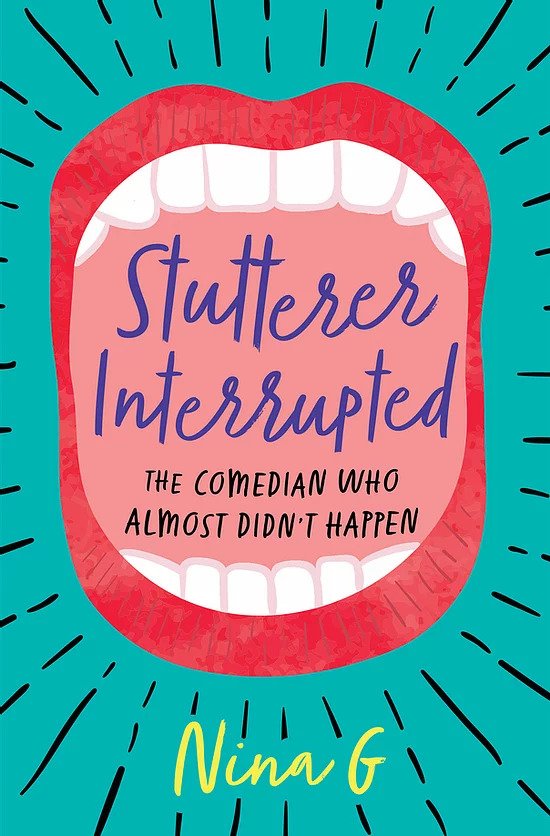 Stutterer Interrupted—part origin story, part strategy guide, part edutainment—thrives in comedy geekdom, bitter ironies and impactful snapshots. Each piece, centered on a pivotal event, shines a light on Nina G's journey, from a comedy-loving child to a comedy-performing champion. Along the way, she encounters a number of hurdles, typically at the whims of an asshole. Turns out, when you stutter and have a learning disability, you cross paths and clash with a lot of assholes. Thankfully, Nina also had access to accommodations, advocacy and humor. And, luckily for readers, with well-crafted jokes, a tough-minded moxie, and irrepressible charm, Stutterer Interrupted gives insight on how to champion yourself. It's real boss shit.
It's important to know that Nina is funny. And you can tell in her writing. Stand-up comedy is rife with oddball creatives, who after being told "no" in life said "screw it," and decided to do what they want. "Doing what they want" usually involves self deprecating jokes about dating, being broke and driving a lot, but it's their calling. Nina's philosophy is a little different. Her comedy takes the outsider status, fully leans into the intersections of her identity, and rather than being self-effacing, she makes the world deal with it; it's principled in politics but also in aesthetics. With Nina, to be artistically amoral is hack, and to be a hack is offensive. Conscious and truthful, she's a comedian's comedian: funny-forward, skillful, persistent. Solid set ups, strong punchlines, pointed point of view, rhythmic fidelity.
Nina is influenced and informed by the intellectual and energetic golden age of Bay Area comedy. She learned at the altar of the Alex Bennett show. She also learned at a young age, due to her disabilities, that people can be lazy, if not outright cruel. Stutterer Interrupted emphasizes the importance to identify your support structures, whether they are family, community, a creative output, or an ally. It also shows how to build those structures within yourself, for yourself. The totality of the book is like walking into an armory. Every chapter gives tools and practical advice—never read the comments, don't center yourself as an ally. Nina G is more than an inspiration, she's a blacksmith. Her stories supply sterling examples of the unending work it takes to love, laugh and learn with dignity and virtue.
Digital: Kindle, Apple Books, Google Play
Physical: Amazon, Barnes & Nobel, Indie Bound