Sal Calanni had nothing to do with LeBron and the Cleveland Cavaliers beating the Golden State Warriors in the 2016 NBA Finals. But for a Clevelander with a long tenure in San Francisco, it had to be sweet. I wanted to contact Sal Calanni the minute Cleveland broke through the glass ceiling of sports legitimacy. I didn't. Sal moved to Los Angeles and I was out the game, rendering a face-to-face meeting improbable. Then I moved to Los Angeles, rendering a face-to-face meeting impossible.
It's a shame because I've always admired Sal Calanni. That voice. A midwestern chainsaw drawl with Pisan bravado. That drive. Stand up, podcasts, sketch, video, head down, do the work, diversify and execute. In many ways it's as easy to root for Sal (the loyal, lovable loudmouth), as it is easy to understand his conundrum. He's different in familiarity, he's unique in his universality. Football-loving, bean-busting, meat and potato, after hours, bruising, observational sarcasm. His style is what comedy was built on. He stuck out living in San Francisco, the counterculture, vigilant and combative progressiveness. He still sticks out in "Little Dago".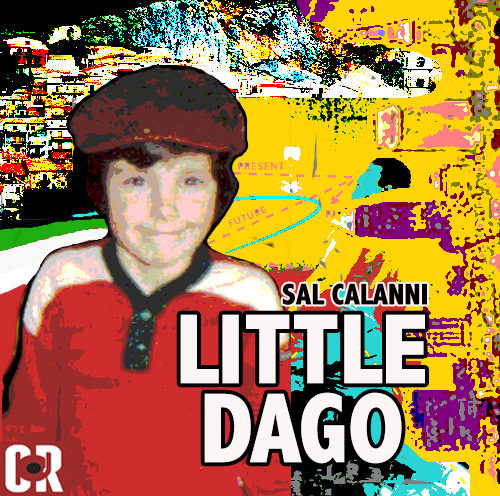 To get the most out of Sal Calanni's second album is to exercise an open heart to lighthearted ignorance. You have to dive in, if you dare, or not. It isn't nice, it's not polite, it's not making more of a statement than some off-color humor and embellished anecdotes. It's called "Little Dago" for christsakes! It invites outrage or at least that paranoid, performative dissent. It takes everything that is, warts and all, stereotypes and shorthand, identity and politics, and lets things be. Everything's relevant and thus owed irreverence. In many ways Calanni's material, his targets, are a celebration of life's precious differences…albeit in argument. You might not agree with the ethics/morals/language Calanni presents—they're jokes, you probably shouldn't—but Sal's good enough to pull out the funny, fold in his personality, and spin out strong set-up-punch jokes.
I'm glad Sal and "Little Dago" are rough and raw. They have a SF Bay Area native's anxiety: gentrification, cultural homogeny, with an outsider's wry detachment. They lampoon Star Wars and smack the Browns. They're confessional, they're apocryphal. They're a pat on the back and a kick in the ass. Sal's a good guy, "Little Dago" is a good album.
Check it out on May 19th and pre-order it on iTunes so you don't flake on supporting Sal.
If you're in the San Francisco area, see Sal do stand up at the Throckmorton (5/16) and San Francisco Punch Line (5/17-20).